Dispatched direct from the warehouse with free shipping Australia Wide.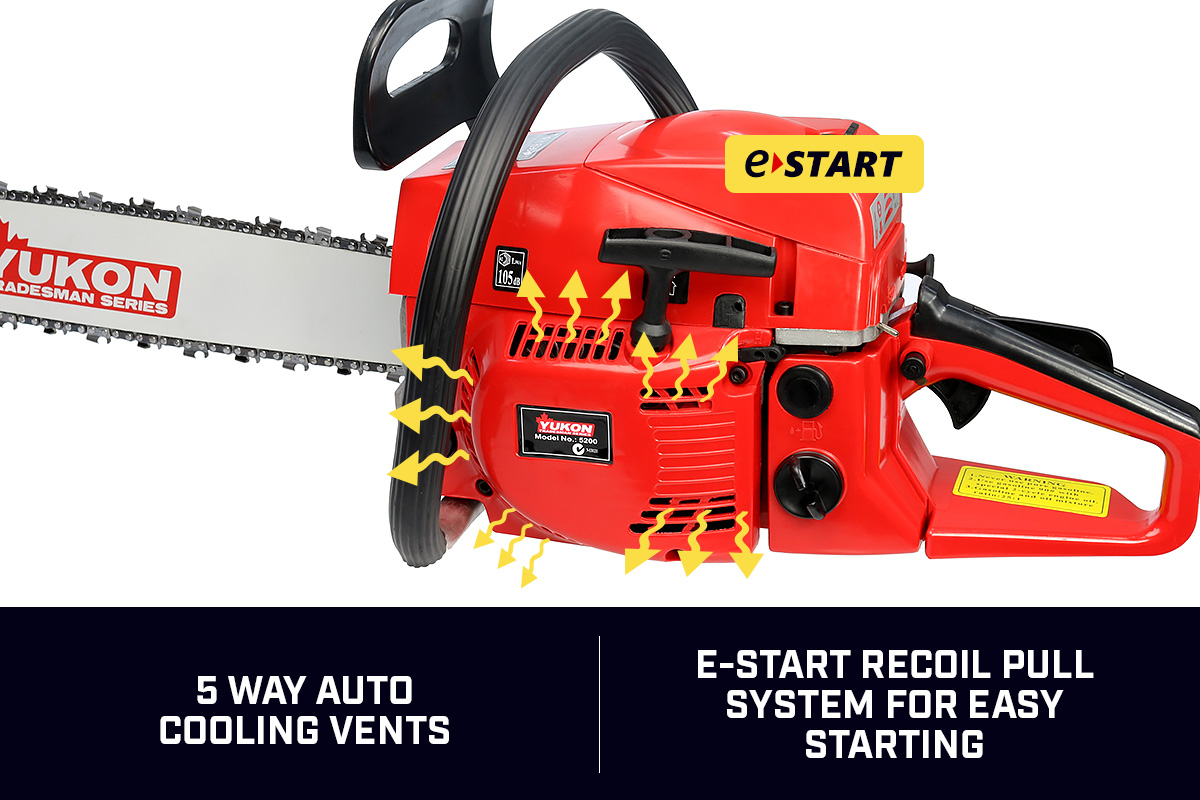 We are Australian Stockists for top quality products and offer the Yukon 52cc 22in Tradesman Series Chainsaw with Case on sale.
An ideal product for the professional or the DIY handyman
and a perfect gift for your best friend. Now offered on sale throughout Australia at just AU$139.5 with free shipping this guarantees that you get the finest quality products at the lowest prices.
AU$139.5 with free shipping
---
Out Of Stock (available to pre-order)
Get 10% off and save
Get 10% of the .
FREE10
Copy and paste the code above at the checkout. Offer expires 30/01/2021
Specifications:
The Yukon 2-Stroke 52cc Tradesman-Series: With 22′ bar and chain, hard worksite carry case plus bonus triple safety kit.
This Yukon Tradesman chainsaw features an air-compression injection system which applies positive air pressure to the carburettor, giving you more power-per-cc grunt.
This saw has a tough polymer housing designed to withstand tough knocks and bumps, a comfortable elastomer grab bar, and a large handle easy-start spring recoil system, which combined with the fully electronic ignition system ensures you can get your saw started every time – no fuss.
Carry Case Included: The Yukon Tradesman-Series includes a hard and durable carry case valued at $45 absolutely free.
This case is ideal for storage at home, in the shed, in the back of the ute, and around the worksite.
If that's not enough to convince you, it also includes Yukon's exclusive 6-point anti-vibration system isolating the operator from the engine to reduce fatigue – letting you work longer (no excuses!).
Save hundreds and make the right choice already taken by thousands of Aussies and we'll throw in a triple safety kit, a fuel mixing bottle and tool kit all at no extra charge!
WARNING: The occurrence called 'kickback' can cause serious or fatal injury. Always read the instruction manual carefully before using your saw.
Warranty note: Purchase does not include servicing and warranty will not cover damage caused by incorrect fuel use ( Requires 2-stroke Oil / Unleaded mix 25:1 )
Use of 2-stroke oil designed for water cooled engines (eg 'outboard oil') will damage the engine and void any warranty. Warranty does not cover wear to the chain or bar caused by lack of chain oil.
FEATURES:
6-Point Anti-Vibe System
Electronic ignition for smooth running
Bonus Carry Case
Toolless fuel and oil caps
Adjustable Guide-bar oil feed rate
Spark Arrestor Muffler
Large Easy-Grip Starting Handle
High-Tech Polymer Housing
Easy-Access to carby adjustments
Engine RPM: 9500
Low Kick-back Premium chain
SPECIFICATIONS:
Brand: Yukon
Unit Weight: 6.5 kg (inc bar and chain)
Bar: 22in Sprocket nose
Fuel Tank: 510ml
Fuel Type: Regular ULP 95+ RON
Fuel Mix: 2-stroke oil / petrol – 25:1
Bar Oil capacity: 260ml
Bar Oil Type: SAE#10W-30 etc
Chain: 0.325 / 0.058 / 86DL
CONTENTS:
Yukon ZJ-5200 Chainsaw
Hard worksite carry case
22 inch Sprocket-Nose Guide Bar
Premium sharp cut 22 inch chain
Guide Bar and sparkplug tool
Carburetor screwdriver
Chain oil adjustment key
Safety Kit
User Manual
As agents and distributors of quality branded products, at Top Line Direct you can be sure of getting the best trade prices direct from our wholesale warehouse. Now selling at just AU$139.5 Enhance your workshop with the Yukon 52cc 22in Tradesman Series Chainsaw with Case and save at the same time, Now offered in stock with free fast delivery throughout Australia guaranteeing great value. We always ensure that you get the lowest prices for the best quality products available nation wide. Promotion: Shop where the professionals get their quality products from and save with free delivery Australia Wide.
Suppliers of quality and accessories
The Yukon 52cc 22in Tradesman Series Chainsaw with Case chosen from our trade > chainsaws selection is offered at a price to suit every budget. We have many more sale offers for you to choose from.
✓
Offered on sale.
The Yukon 52cc 22in Tradesman Series Chainsaw with Case is now on sale at the special trade price of AU$139.5 it does not get better that this. Shop with confidence at www.toplinedirect.com.au
✓
Free Shipping.
Free shipping on all orders Australia wide.
✓
Generous Exchange Policy.
Exchanges accepted on items returned up to 15 days from delivery. See our Exchange or Returns detail.
✓
Stock.
Out Of Stock (available to pre-order)
✓
Manufacturers Warranty.
All our products come with a full manufacturers warranty.
✓
Everyday Specials.
Big Brands, Everyday Low Prices with Special Discounts on selected items.
Another top Quality Branded Product.
Why Buy From Us
Safe and secure shopping guaranteed (SSL Cert)Amazing offers from an Australian Company you can trust Free Shipping Australia wide Delivery form stock within Australia Dedicated online support Shop with confidence Tracking details sent with your Order Convenient payment options (PayPal, Visa, MasterCard)
Shop with confidence at Tool Master where only the finest quality products are promoted and equipment shipped direct from our wholesale supplier. If you are happy with your purchase, tell a friend, if not tell us. Ref:Procor Australia
Delivery Details
Your order will be dispatched with Free Delivery on the first available business day Please allow 2 – 3 days for delivery.
---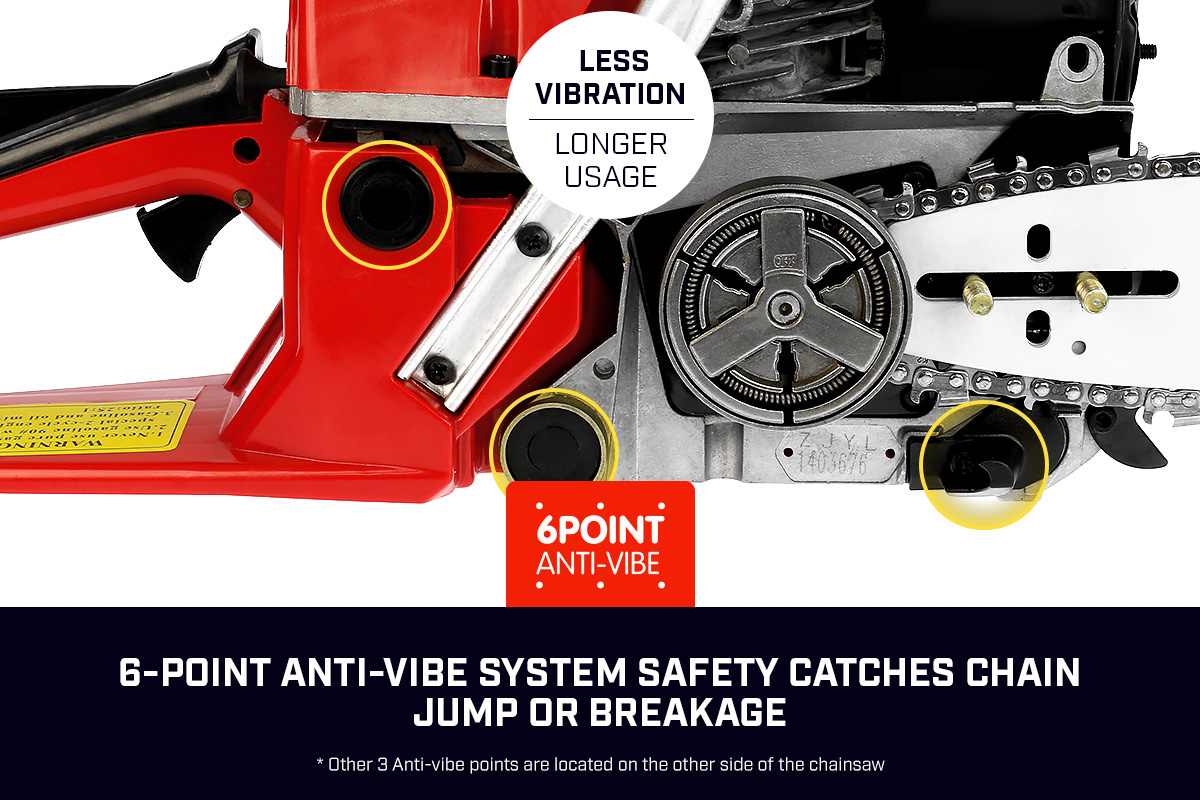 Out Of Stock (available to pre-order)
Take advantage of our Price Guarantee
See our full range of
chainsaws">
trade > chainsaws products here
---
Shop where the professionals shop and shop with confidence at Top Line Direct where only the finest quality products are promoted and equipment shipped direct from our wholesale supplier. If you are happy with your purchase, tell a friend, if not tell us Ref:DS-chs-zhj-52c-22
---